We are closed from 1st to 11th July!
We are closed from 1st to 11th July!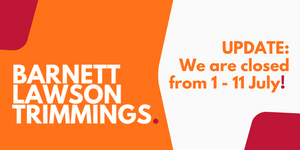 If you haven't already heard, we are moving to Pulloxhill! You can read all about that here. 
While we make the move, we will be closed from Friday 1st July to Monday 11th July. 
This means we will not be processing or shipping any orders between this time. We will be unable to answer phone calls during this time, and emails will be monitored but we will not be routinely answering these until we re-open on 11th July. 
If you know you will need any trims between these times, please get your orders in before Tuesday 28th June to ensure we have time to process and ship these in time. 
Thank you so much for your patience and we look forward to providing you with trims from our new home very soon!