Bye Bye Berkhamsted...
Bye Bye Berkhamsted...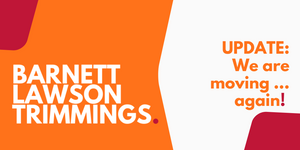 After a couple of years in Berkhamsted, Barnett Lawson Trimmings is excited to be moving to Pulloxhill, just north of Luton.
As we transition into more of an online business, we need a larger space to arrange and organise our products so that we can get your orders picked, packed and posted as quickly and efficiently as possible.
If you didn't already know, our website now has over 500 products listed - that's thousands of different colours, lengths, widths and sizes of trim available right at your fingertips!
With this move comes another big stock-take and product listing push so we can get even more of your favourite products online and available to buy instantly. Our aim is to make it as easy as possible for you to find and purchase exactly what you need for your project, all via our website. 
Our website even automatically applies wholesale discounts so you can get the best price for your trims without having to do anything! 
As with our Berkhamsted space, our new location will be closed to the public, but you are always welcome to contact us with enquiries or questions and we will do our best to help you via email. 
We will not be processing or shipping any orders from Friday 1st  July to Monday 11th July 2022, while we move premises. Please place all orders by Tuesday 28th June to ensure shipping before the break. 
Lastly, we want to thank all of our customers for your support over the last few years. There have been a lot of changes at Barnett Lawson and we are excited to be taking this next step. The pandemic has had a massive impact on our industry and as a small business, we are still pivoting and adapting to ensure we can serve our customers in the best way possible, and can continue to do so for many years to come. 
If you have any thoughts on how we can make your online shopping experience even better, please feel free to email me on emily@barnettlawson.co.uk. I am always open to suggestions and very keen to ensure that shopping at barnettlawson.co.uk is as good as it can possibly be.