We are passing the benefits on to you!
We are passing the benefits on to you!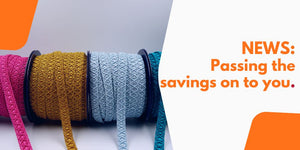 At Barnett Lawson, we strive to provide helpful and knowledgeable service, high-quality products and competitive prices. We pride ourselves on having customers who have been with us for decades, and maintaining this customer loyalty is of utmost importance to us. 
The last few years have seen a lot of changes for our business, and we have been able to implement new systems and cost-saving measures; the benefits of which we are now excited to be able to pass onto our customers. 
What have we done?
We've moved to a larger space, further from London and introduced new inventory and order management software. Not only does this mean that we have more space to store products, but we can also more efficiently manage stock levels and locate and ship your orders, saving time and money. 
We've increased the frequency of shipments from our manufacturers. This means that we can keep your favourite items in consistently stock, in lots of colours and sizes. It also ensures that when we do need to order in items especially, there is a shorter waiting time and without increased cost to the customer.
We've opened up wholesale discounts to all. We know that the size of projects can vary massively. Sometimes you need exactly 37 metres of a trim, and other times you only need 1 metre. We offer great savings for all quantities between each tier, not just round numbers, so everyone has access to the best prices without having to buy more than necessary. 
We've listed a huge amount of our trims online, so many of the long lost treasures can now be found and purchased much more easily. That's thousands of trims previously unavailable to our online community, now available to purchase at the click of a button, from all over the world. We've still got quite a few to list, which we are hoping to do in the near future, therefore expanding our online offering even more. 
What does this mean for you?
As a Barnett Lawson customer, you can still expect the same helpful and knowledgeable service that we've always provided. Our staff are dedicated to helping you find the exact trim you need, in good time and at a great price. 
In addition, thanks to all the reasons listed above, we have been able to reduce the prices of some of our products, including some end-of-the-line treasures as well as best selling favourites. And you can still benefit from the wholesale discounts on top of this!
We've also been able to introduce more opportunities to save, like sales and discount codes in return for reviews and recommendations. Make sure that you're signed up to our newsletter and social media channels to be the first to hear about these! 
Our 'standard' ranges of your favourite products, including the best-selling 9540 fringe; 9844, 9893, 7980 gimp braids; 9869 and 9995 cords will be consistently in stock and available to buy instantly. 
We've reduced the price of samples. Putting together a sample pack can take almost as much time as packing an order. However, thanks to our new software system and larger warehouse, we are able to locate and pack your samples much more quickly and efficiently, meaning we are able to charge less for this service. 
 What we hope for the future of Barnett Lawson
As a business that has been operating for over 70 years, Barnett Lawson has seen a lot of changes. As time goes on, we are committed to developing and embracing the changes that keep us able to provide fantastic service, great quality products and competitive pricing. 
We want to sincerely thank all of our loyal customers who have seen our business evolve over the years, and welcome our new customers who have found us as a result of this evolution. Many small businesses have had to close their doors for good as a result of the economic climate over the last few years, and we wouldn't be here without you.