Customer notice: 1-week Closure
Customer notice: 1-week Closure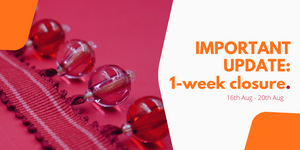 We would like our industry customers to please be aware that the showroom will be closed from Monday 16th August to Friday 20th August. During this time, we will not be open for showroom visits, and communications will be monitored but not addressed until the following week. 
You can however still purchase items through our online store, which will be shipped as usual during this time. 
Thank you for your patience and understanding.