Product Showcase: Latest Monochrome Offerings
Product Showcase: Latest Monochrome Offerings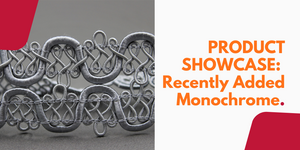 We are uploading new trimmings every week, in every colour of the rainbow and the colour of the clouds too!
'The Aladdin's Cave of Trimmings' was how we used to be known. A cacophony of colours and textures greeted you as you walked through our showroom door. As we built the new website and slowly began streamlining and modernising our branding, I tried to ensure that this experience wasn't lost. 
If you follow us on social media, you'll know that I LOVE bright colours, but today I decided to mix it up and turn the spotlight on some of our more neutral, monochrome offerings. I wanted to focus in on some of the beautiful textures that the products have and show that you don't need bright colours to be eye-catching. 
These are just a few of our most recently added products, so be sure to check the new 'Recently Added' collection page on our website to stay up to date!