Inspiration: Luxurious Gift Wrapping
Inspiration: Luxurious Gift Wrapping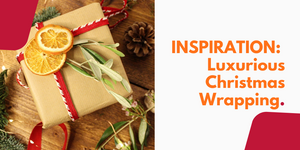 It's just 10 days until Christmas so it's almost time to begin thinking about wrapping those gifts (assuming you're more organised than me and have actually bought your gifts already!). 
This year, why not go that extra mile and impress your loved ones with some truly insta-worthy wrapping? It's great for using up any small scraps of ribbon you have left over, or if you're feeling fancy you could treat yourself to some special trims to give your prezzies a dash of pizzaz! 
Check out some of our ideas below and be sure to tag us if you try any of them out! We always love to see what you're up to!