Inspiration: Customised Trainers
Inspiration: Customised Trainers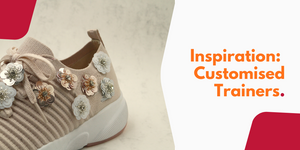 We all know that trainers are not just for the gym. These comfy and practical wardrobe staples come in all shapes, colours and designs, some  even with lights or wheels! We at Barnett Lawson Trimmings think that everyone deserves a pair of trainers that perfectly conveys their personality or mood, so we have put together a few ideas of how you can do it.
Sequin and Beaded Flowers
Scatter some of our sequin and beaded flowers across the surface of your trainers for an instantly feminine and whimsical makeover. These can be easily sewn or glued on, or attached to a brooch back and pinned into place.
Items used: Sequin and Beaded Flowers (6383) £1.89 each. 
Embroidered Motifs
Make a statement with this large floral embroidered motif, or opt to keep it subtle with one of our smaller motifs.
Item used: Embroidered Rose Motif (7564) £7.80 each. 
Diamante Brooch
If you want something with a little less commitment, why not adorn your shoes with a brooch? We have a huge selection of brooches available in store featuring everything from pearls and diamantés like the one above, to sparkling bumble bees, glittering crests and tweed bows. We also stock shoe clips so you can transform almost anything into an accessory for your ever-versatile footwear!
Item used: Pearl and Diamante Brooch (4500) £11.40 each. 
We love to see your creations so if you try this or anything else using our products, please remember to tag us, email us or come and show us.