How to: Make a Tassel Ghost Halloween Decoration
How to: Make a Tassel Ghost Halloween Decoration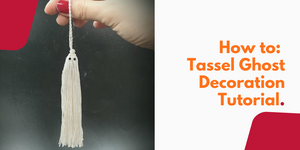 Add a little ghoulishness to your home this Halloween weekend with this quick and easy craft idea
With Halloween coming up this weekend, we thought that we would share a very quick little tutorial on how to make this cute little ghost halloween decoration. 
Make one or two to hang in your window, or make loads and decorate your entire front garden or porch to encourage trick or treaters! 
Thankfully they only take a few minutes each so you've still got plenty of time to conjure up a whole gang! 
You will need:
Bound over Tassels - we used 9931 Bound Over Tassel in Ivory, but you can use any size you like! 
Small black rhinestones
Fabric glue
A rhinestone picker (or a pen with a bit of blu-tac on the end!)
Steps:
Use the rhinestone pick to pick up one rhinestone from the front
Put a tiny dot of glue on the back of the rhinestone and stick to the upper section of the tassel
Repeat for the second rhinestone, placing a few millimetres from the first one
Leave for a few minutes to dry
Carefully remove the horizontal thread that binds the vertical threads together at the 'neck'. You can do this by gently snipping it away, or untucking the end and unwinding it. 
And voila!  One little friendly ghostie ready for Halloween night!
If you enjoyed this, why not try our 3-step Jute Vase Tutorial?