How to: No-Sew Pumpkins
How to: No-Sew Pumpkins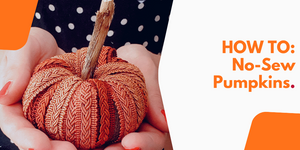 It's that time of year again and the shops are full of autumn-themed decor and pumpkin-spiced-everything. If you're like me and like to get into the spirit of the season, but don't necessarily want to buy something that is stored away for 10 months of the year, why not try this cute no-sew pumpkin? 
It only takes 5 minutes, can be made from things you may already have around the house (including those scraps of trim you've been hoarding!), and can be dismantled when you move onto your Christmas decorations, and returned to their previous forms, like nothing had ever happened!
You'll need: 
A hair donut
Upwards of 3 metres of braid or cord (can be several shorter lengths)
A twig approx. 3cm long
Watch the video below to see how I did it, but essentially, it just involves wrapping the cord around the donut until it's completely covered and tucking the ends in. Pop the twig in the centre when you're done and voila! 
I've tried it with several different styles of trim and they are all totally adorable. Be sure to tag us on social media if you give it a try! We'd love to see! 
Products we'd recommend for this craft: 
Gimp Braid In 'Feather' Design 12mm 9893
Punched Suedette Braid 12mm 8137
And here's some we made earlier!