HOW TO: Lace Candle Holder
HOW TO: Lace Candle Holder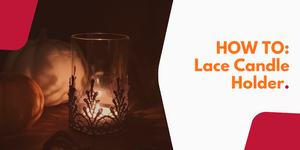 If you're looking to give your home a little hint of Halloween this October, we've got the perfect craft for you. It takes less than 5 minutes and only costs a couple of pounds! - what's not to love? 
I love how the black lace creates a beautiful (but kinda creepy *pumpkin emoji*) shadow over the table and surrounding objects. You could easily adapt this and use white lace for more of a shabby chic or spring wedding look. 
The lace we used is unfortunately now out of stock, but you can find our full range of laces here. We think this cotton lace is a great alternative. 
Watch the tutorial below and tag us if you share your finished candle holders on social media!