How to: Cotton Cord Coaster
How to: Cotton Cord Coaster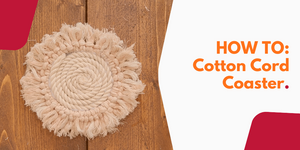 You lot are loving this cotton cord and not a day goes by where we don't send at least a couple of metres somewhere in the world! So in honour of this new best-seller, I decided to make a little tutorial for this fringed cord coaster. 
Whether you're just looking to update your coffee table, or perhaps make a set for a loved one this Christmas, this quick craft is really versatile. It can be made in various colours, or make it in white and dye it yourself!
A coaster size uses just 1m of 10mm Cotton Cord and 2m of 5mm Cotton Cord, coming in at just £4.45 in total. 
Watch the tutorial below!