How to: Cord Ghostie Decoration
How to: Cord Ghostie Decoration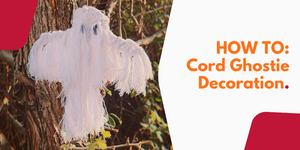 When I saw this tutorial on youtube, I just couldn't resist giving it a go. 
I've never done macramé in my life but I enthusiastically grabbed some of our 9869 twisted cotton cord and got started. I'll admit, I gave up with the knotting half way through, partly through frustration and partly because I ran out of cord, but I think it works almost as well with just the loops of cord and no knot - just be sure to secure the ends well to stop it falling off the wire! 
Let me know if you give it a go, and how you got on!