COVID-19: Showroom updates
COVID-19: Showroom updates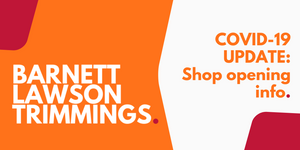 By now, you've probably caught on to the fact that we've made a few changes around here. Hopefully you've enjoyed browsing our new website (thank you to everyone who has placed orders so far!) and taken a look at some of the new products we have available. 
The last piece of the Barnett Lawson puzzle is, of course, our beautiful showroom, which we have recently relocated to Berkhamsted, Hertfordshire. We know that many of you are excited to pay us a visit as soon as COVID regulations allow, but unfortunately we are going to make you wait a little longer! We are keen to get our new space looking spick and span before we fling open our doors and welcome you in, so we will be remaining closed for the time being. 
We are working hard to get everything unpacked as quickly as possible, so stay tuned for updates. 
In the meantime, you can continue to shop via our website, or by contacting us directly for special orders or products not yet listed. 
Thank you again for your continued support, it means the world to us!