Artist Feature: Ian Bennett Millinery
Artist Feature: Ian Bennett Millinery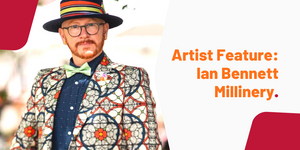 Award-winning milliner and teacher, Ian Bennett is always a welcome visitor at Barnett Lawson. His friendly demeanour and immeasurable creativity radiate, and his boundless knowledge is freely shared amongst the students he brings to the showroom.
Ian's unique and whimsical style has led him to create a plethora of wonderfully unusual hats and headpieces. Since his first foray into millinery at a Women's Institute Hat Making workshop  in 1991, he has forged a hugely successful and varied career spanning film and theatre to fashion and teaching. His wealth of experience means he can offer classes and one-to-one tuition in blockmaking, Crystoform, feathers and much more.
Ian said the following on why he loves hats:
"I have always been drawn to the three dimensional. I studied sculpture at college and loved the idea that a form could have a presence. It made its surroundings change, simply by being there. For me hats have that same presence, they have a personality of their own – as well as a wonderful extension of someone's character. They can be subtle, quiet, demure, loud and overwhelming. Hats are such incredible things, from the moment you put one on, you become something else."
For further information or to contact Ian, you can email him on ianbennetmillinery@gmail.com or check out his instagram @ianbennetmillinery. His book, My world according to Me: A Technical Workbook, is available from thehatteruk.myshopify.com.